Pediatric Dentist Near Me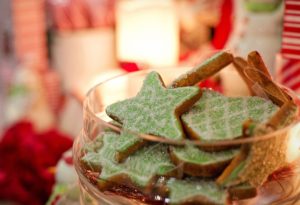 Between Halloween and Christmas, there are numerous tasty treats and foods to enjoy. For many people, food is the highlight of the holiday season. However, certain foods and candies are particularly damaging to your teeth. If you want to keep your smile looking healthy into the new year, here are some tips.
Candy Canes
Candy canes make for a tasty treat, but they are best left as decorations instead. Candy canes contain large amounts of sugar which can contribute to tooth decay. Also, if you bite into a candy cane you could chip a tooth. Our team suggests hard candies might be something for you to avoid this holiday season.
Gumdrops & Chewy Candies
If you are still working through your Halloween stash of candy, it might be a good idea to avoid chewy candies like gumdrops. These candies are known for sticking to your teeth. Excessive chewing can also lead to TMJ pain for some. We recommend leaving the Dots and Jujubes for decorating your gingerbread house instead.
Hot Chocolate
Warming up with a mug of hot chocolate makes a gloomy winter afternoon much more enjoyable. But hot chocolate is not particularly friendly to your teeth. Like coffee, the beverage can cause staining. Hot chocolate also contains excessive amounts of sugar, especially if you add marshmallows, which can contribute to tooth decay. If you insist on drinking hot chocolate, consider drinking water shortly afterwards to wash away some of the cocoa. We suggest brushing your teeth after drinking beverages such as coffee or hot chocolate.
Fruitcake
Another common holiday food to avoid this time of year is fruitcake. The sticky, sugary cake can lead to tooth decay. If you are someone who has had some dental work done in the past, such as crowns and fillings, fruitcake is your enemy.
Eggnog
You might want to consider a drink other than eggnog. Like most other foods on this list, the sugar content is something to avoid. The alcohol in it can lead to dry mouth, which is a particularly ideal breeding ground for bacteria.
We are all going to indulge this holiday season. Schedule a visit to our office after the holidays for a thorough cleaning and examination.
The holidays offer much in terms of tasty foods and sweet treats. But just because you might have some time off from work doesn't mean you should take time off from your daily oral hygiene routine. Continue good practices such as flossing and brushing twice-daily. Avoid sweet, sugary treats, and if you have crowns or fillings, avoid things that might loosen them. Following these simple steps will keep your smile looking bright well past the holiday season.
For more tips on keeping your teeth healthy, or to schedule a visit, contact our office.
1039 Grant St., Suite B11
Atlanta, GA 30315
We are located two blocks from Zoo Atlanta at the Beacon Atlanta.
Phone: (470) 747-7888